Glassware and Mugs - Bear - Moose - Birds-Ducks - Deer Decor
Bear Decor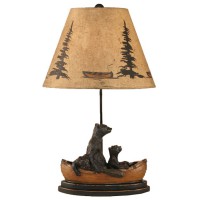 Our most popular rustic home decor theme. Below you will find bear decor items for the currently selected cabin decor category. Bears are iconic wildlife through out most of North America and decor featuring bear is perfect for decorating a lodge, cabin or rustic home. Bear decor also makes the perfect gift for those who truly appreciate nature.
Moose Decor
Moose are iconic wildlife common in the Mountain West and extreme northern US and Canada. Moose are often considered majestic. Moose Decor is the most popular wildlife theme decor for Lodge Style Decor in the North Eastern US as well as Mountain Decor in the Mountain West.
Birds-Ducks
The Cabin Shop offers decor featuring popular bird and duck motifs. You can choose from many Cardinal pillows and rugs and other bird decor items. We also have many decoys and cabin bedding featuring Mallards, Pintails and other beautiful ducks.
Deer Decor
Deer Decor is a popular cabin decorating theme. As one of the most beautiful and commonly sighted larger wildlife animals, deer exemplify the woods and cabin experience. It follows, Deer Decor exemplifies the cabin decorating experience.
Glassware and Mugs
Regular Price: $169.99

Sale Price: $129.99 - Save 24%
Regular Price: $169.99

Sale Price: $129.99 - Save 24%
Regular Price: $229.99

Sale Price: $179.99 - Save 22%