Glassware and Mugs - Bear - Deer - Elk - Loon Decor
Bear Decor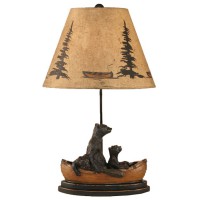 Our most popular rustic home decor theme. Below you will find bear decor items for the currently selected cabin decor category. Bears are iconic wildlife through out most of North America and decor featuring bear is perfect for decorating a lodge, cabin or rustic home. Bear decor also makes the perfect gift for those who truly appreciate nature.
Deer Decor
Deer Decor is a popular cabin decorating theme. As one of the most beautiful and commonly sighted larger wildlife animals, deer exemplify the woods and cabin experience. It follows, Deer Decor exemplifies the cabin decorating experience.
Elk
Elk Decor is not as common as decor of other members of the Cervidae(deer) Family. But, with its thick, shaggy mane, impressive antlers and white rump (wapiti in shawnee,) the stout bull Elk has the anatomy of a classic wildlife Icon. Elk being found primarily in mountains of western North America, make Elk Decor an ideal decorator's theme for large log homes of the Mountain West.
Loon
Loons are a distinctive Northwoods' Decor. Below you will find loon decor items for the currently selected cabin decor category. Loons are famous for their marvelous black-white coloration and their distinct Loon-calls. They are great swimmers, and they fish very well. It is astonishing to watch loons fly. Our Loon Decor will perfectly complement any rustic, cabin or lodge decor.
Glassware and Mugs
Regular Price: $211.99

Sale Price: $169.99 - Save 20%
Regular Price: $169.99

Sale Price: $129.99 - Save 24%
Regular Price: $211.99

Sale Price: $163.99 - Save 23%