Rustic Accent Rugs - Bear - Moose - Fish - Elk Decor
Bear Decor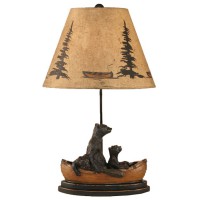 Our most popular rustic home decor theme. Below you will find bear decor items for the currently selected cabin decor category. Bears are iconic wildlife through out most of North America and decor featuring bear is perfect for decorating a lodge, cabin or rustic home. Bear decor also makes the perfect gift for those who truly appreciate nature.
Moose Decor
Moose are iconic wildlife common in the Mountain West and extreme northern US and Canada. Moose are often considered majestic. Moose Decor is the most popular wildlife theme decor for Lodge Style Decor in the North Eastern US as well as Mountain Decor in the Mountain West.
Fish Decor
Fish Decor or Fishing Decor is synonymous with Cabin Decor. Would a cabin feel like a cabin without fishing accoutrements? Our collection of fish decor and fishing decor featuring fly rods and reels, creels, nets, flies, tackle and fish, will bring out that extra rustic cabin decor look. Trout is a very popular fish decor due to its rich colors and being widely found in many lakes, streams and rivers throughout the US.
Elk
Elk Decor is not as common as decor of other members of the Cervidae(deer) Family. But, with its thick, shaggy mane, impressive antlers and white rump (wapiti in shawnee,) the stout bull Elk has the anatomy of a classic wildlife Icon. Elk being found primarily in mountains of western North America, make Elk Decor an ideal decorator's theme for large log homes of the Mountain West.
Rustic Accent Rugs
Wildlife Accent Rugs, Rustic Area Rugs
Included in our extensive line of cabin furnishings and rustic décor is our accent and area rug collection. Here we feature a wide variety of lodge accent rugs including moose rugs, bear rugs and wildlife accent rugs. These accent rugs are perfect for under coffee tables and in foyers. Our larger cabin area rugs can be used under dining room or kitchen tables or as the main carpet in the great room or office and come in braided rugs or hooked wool rugs with wildlife designs. At the Cabin shop, you will also find lodge style coir door mats, rustic welcome mats and cabin doormats with moose, bear, deer and fish that can be used inside or out. For all you rustic decorating needs, The Cabin Shop is the most complete online store for cabin furnishings and lodge décor.