Wildlife Wall Art - Deer Decor
Deer Decor
Deer Decor is a popular cabin decorating theme. As one of the most beautiful and commonly sighted larger wildlife animals, deer exemplify the woods and cabin experience. It follows, Deer Decor exemplifies the cabin decorating experience.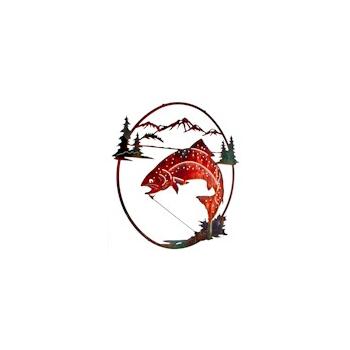 Wildlife Wall Art
Wildlife Wall Art, Rustic prints and Wall Taspestries
At The Cabin shop our wildlife wall art selections of rustic metal wall art and wall tapestries can add the perfect finishing touch to your cabin décor. Our rustic metal wall art collection includes scenes with elk, deer, moose, mountains, lakes and fishing. This lodge style metal wall art comes in several finishes and is sure to compliment any rustic decorating theme. Our collection of wall tapestries can give your rustic décor a completely different feel. These wall tapestries include colorful wildlife scenes such as elk tapestries, wolf and buck tapestries and our newest addition, pheasants in a field. Most of our rustic wall tapestries have matching pillows and throws to complete the collection.