Fire Place Tools - Moose - Dog Decor
Moose Decor
Moose are iconic wildlife common in the Mountain West and extreme northern US and Canada. Moose are often considered majestic. Moose Decor is the most popular wildlife theme decor for Lodge Style Decor in the North Eastern US as well as Mountain Decor in the Mountain West.
Dog
Our most popular dog theme is Labrador Decor. Below you will find dog decor items for the currently selected cabin decor category. Labradors are #1 dogs in North America. They are great hunters, assisting with fishing, and part of a family. Dog decor also makes the perfect gift for those who loves dog and/or has one.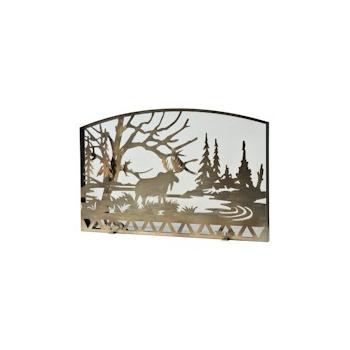 Fire Place Tools
Shop for rustic fireplace screens, fireplace tool sets and rustic accessories at The Cabin Shop. Our rustic fireplace screens and tool sets can be a great addition to your lodge decor and log cabin decorating scheme. These heavy metal screens come in an array of wildlife designs, including elk, deer, fish and moose. You can also choose from lake scenes and mountain landscapes. Your fireplace can become the focal point of your log home decor with one of these beautiful wildlife screens. The Cabin Shop also carries rustic fireplace accessories including rustic log holders, kindling baskets and antler fireplace tools.

Regular Price: $1,799.99

Sale Price: $1,079.99 - Save 40%
Regular Price: $1,589.99

Sale Price: $953.99 - Save 40%